How Do I Begin Purchasing a Home?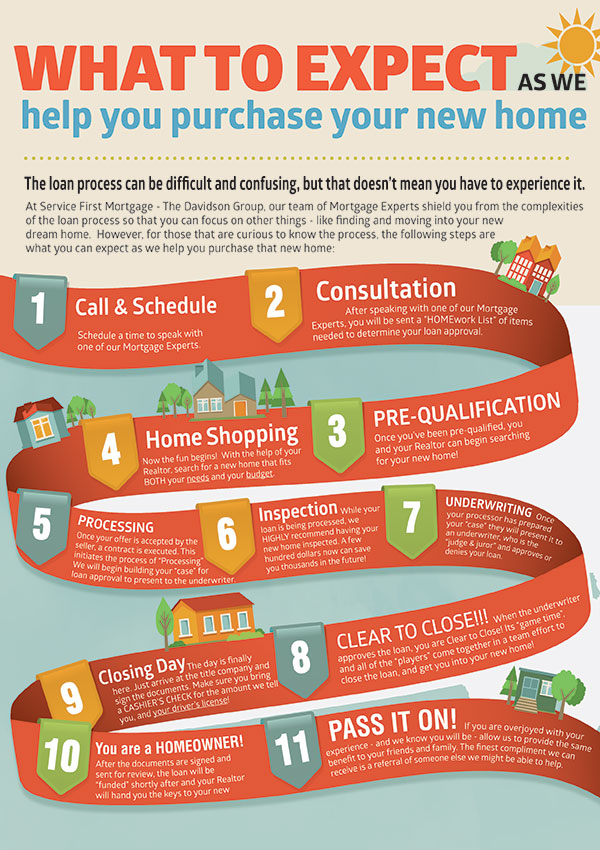 Buying a home and getting a mortgage can seem rather daunting, whether you are buying your first home or your tenth. Not to worry, we understand! We're here to walk you through the process one step at a time. To help you get started, here's a step-by-step guide to what to do first and what you can expect during the process of purchasing and financing your next home.
Step 1 – Call us. Schedule a time to talk with a loan officer before you begin shopping for your next home. We can help you determine how much home you can afford.
Step 2 – Consultation. Once you have spoken with your Loan Officer you will be given a "HOMEwork List" of items that we will need to determine your loan approval.
Step 3 – Pre-Qualification. After we receive all of the items on your "HOMEwork List" we can complete your loan pre-qualification. With your pre-qualification you will know exactly the price range of the home you can afford that still fits within your goals that were discussed. Armed with this information you and your Realtor can begin looking for your new home!
Step 4 – Home Shopping. Contact your Realtor®, let them know you have been pre-qualified for a mortgage and that you are ready to begin actively looking for a new home. Let the fun begin!
Step 5 – Processing. Once you have found a home and the seller has accepted your sales price offer, a purchase contract will be executed with the help of your Realtor®. Once the purchase contract is done, the mortgage loan processing begins. Your Mortgage Expert will request documentation from you to help build your "case" for loan approval to present to the loan underwriter.
Step 6 – Inspection. While the loan is being processed, we highly recommend that you get the home inspected by a professional home inspector. Yes, it is an extra cost to you but, if issues are identified, could save you the price of costly, unexpected repairs in the long run.
Step 7 – Underwriting. Once your loan application packet has been completed we will forward it on for final approval by the underwriter. The underwriter will review the loan and make sure that it meets all of the required guidelines and regulations. If needed, they will work with processing and you, the borrower, to obtain additional information or documents that might be needed in order to give a final approval.
Step 8 – Cleared to close. Once the underwriter approves the loan we are cleared to schedule the loan closing to finalize the purchase of your new home! Our team will coordinate with you and all of the 10+ parties involved to schedule your loan closing.
Step 9 – Closing Day. This is the day all of your hard work pays off! The closing will be held at the title company's offices. Just bring a Cashier's Check for the amount we'll tell you and have your Driver's License with you as well.
Step 10 – You are a Homeowner! Following the closing, your loan documents will be reviewed and your loan funded, meaning the lender sends the funds to the seller. Once completed your Realtor® will hand you the keys to your new home!
We go out of our way to make sure the process of buying your home is as pleasant and easy-to-understand as possible. Please ask us any questions you may have along the way. We're here to help!